Company history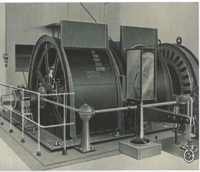 History of ELEKTROTECHNIKA, a.s. begins in the second half of the 19th century. An important businessman Emil Kolben and an excellent technician, Čeněk Daněk, stood at the birth of the company. A rationally organized plant has been created with state-of-the-art equipment for economical production (eg presses, dynamo plate grooving machines, hydraulic presses for anchors and commutators, universal drills, portable machine tools and especially modern electric cranes. These machines have been powered by three-phase electric motors they are still used today.
The production plant was located on the outskirts of Prague to allow future expansion. In 1898 Kolben won the competition for the construction of a Prague power plant and founded a company called Elektrotechnická, a.s. In 1927, a major concern, Českomoravská-Kolben-Daněk (ČKD) was established, producing everything from medical supplies - through locomotives, motorcycles, aircraft engines - to mining equipment. The modern history of the company began in early 1999 with the transformation of viable units of the former ČKD PRAHA HOLDING, a.s. to ČKD Průmyslová ELEKTROTECHNIKA, a.s. The company's strategy was to stabilize its position as a supplier of high-parameter semiconductor applications on the market in the Czech Republic and Slovakia. Subsequently to resume deliveries abroad, mainly to Russia, Turkey, Vietnam, Ukraine, etc.
In January 2006, the company ČKD Elektromaš was established in Ukraine to expand its activities in the Eastern markets. And since 2005, the company has also been represented in the Russian Federation. Since its inception, the company has acquired a number of significant references throughout its range of activities, both domestically and abroad.
ELEKTROTECHNIKA, a.s. is a modern, dynamic and powerful company that adds value for the customer at a price that is consistent with the quality of the services it provides.