Substations for city transport and railways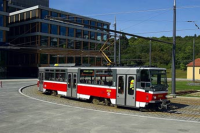 Elektrotechnika, a.s. presents modernized substation for public transport with variable solution for tram, trolleybus and metro. All produced substation types (stable, container, mobile) are adapted for local and remote control - catalog.
Supplies for transport infrastructure
traction substations for traction with variable solutions for tram and trolleybus networks, scales and railways

technology for filtration and compensation of negative phenomena in traction networks

equipment for supplying fixed rail equipment and turnout heating

traction network diagnostics equipment

our technologies enable the operation of electrically driven, therefore ecological vehicles by public transport

we have a long tradition and rich experience in designing and manufacturing reliable, modern and energy efficient technologies for public transport and rail transport

particularly high traffic safety requirements are required in transport infrastructure

the reliability of our brand has been proven in urban and rail transport
We produce various kinds of converter stations:
in a stable design

in container design

in a mobil version
Changing stations are adapted for local, respectively. remote control. The converter components are adapted for standard voltage levels and for a wide range of currents. We produce complete technology, individual equipment or some components in a completely unique design, always according to specific customer requirements.
#s3gt_translate_tooltip_mini { display: none !important; }