Production program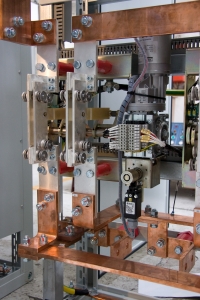 ELEKTROTECHNIKA, a.s. has a rich experience in the development and production of electrical engineering equipment, especially semiconductor applications, with a focus on delivering goods and services designed by means of individual projects. We offer a technically optimal design which takes into account the minimization of total investment costs, especially in the case of renovation or modernization of existing equipment.
The ELEKTROTECHNIKA, a.s. production program includes:
static Var Compensation (SVC)

regulated electro drives

control system

exchanges for PT and railway transport

HV-sources for electrostatic precipitators

complex deliveries of technological junctions

special performance electronics applications

service and testing lab
Solutions for industry sectors:
Mining and metallurgy
Regulated drives for rolling mills and mining machinery

Drives for pumps, fans and compressors

Aplications for metal heating and melting processes
Gas, oil and chemical
Regulation of compressors, fans and pumps

Regulation of special resources for electrolysis processes

Renovations and modernizations of compressor stations

Modernizations of various operations in chemical plants
Energy and ecology
Regulated drives for starting and regulating the r.p.m's of fans and pumps

Static Var Compensator to improve the quality of energy in power grids

Reduce the negative environmental impacts - for example - electrostatic precipitation technology
Infrastructure and manufacturing
Transformer stations with variable designs for tram and trolleybus

Transformer stations with variable designs for subways and railways

Technologies for filtration and compensation of negative phenomena in traction networks
We provide our partners and customers with comprehensive solutions focused on the supply of lower technology nodes in all our areas of activity in Europe, Asia and other territories.
Our activity starts by consulting during an investment project and preparing a study, analysis and project documentation. It continues with production and installation, including engineering, and ends with ongoing care for the delivered technological unit, with participation in periodic renovations, modifications and modernizations.
ELEKTROTECHNIKA, a.s. offers various options for self-financing or co-financing of select projects.